Helping Lendlease to create Atherstone Estate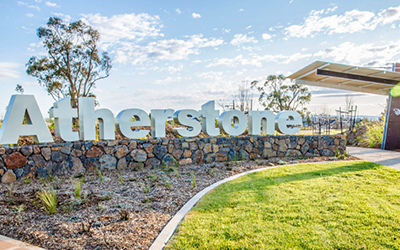 Glascott has been working with Lendlease Communities over several years in Sydney, Canberra and Brisbane. We are delighted to have extended our relationship into Victoria where we are currently helping them to deliver Atherstone Estate.
Atherstone Estate is a vibrant new community situated in Melton, 40km west of Melbourne. Our team is providing landscaping on the Stage 1 entry piece, and on Stage 3 and 4 which comprise a reserve, a park with sitting areas and streetscapes.
Urban Edge designed the landscaping to blend cohesively with the local environment. The entry piece is being constructed from recycled timber and exposed concrete to blend with the surrounds and create a statement. There is also a wetlands that interfaces and connecting the reserves via recreational walking tracks.
The scope of works includes earthworks, drainage, concrete footpaths and formwork, timber fencing and seating. Soft landscaping includes 291m2of turf and topsoil, 11,638m2of hydroseeding, planting of 152 trees and over 2,00 tube stock plants, plus 170m3mulch.
"We are delighted to be working with Lendlease Communities," said Victorian Manager, Andrew Gualano. "Our team is committed to providing outstanding service, working efficiently to deliver the quality outcomes on time and to budget."
The Stages are being deliver simultaneously and are due for completion in June. Lendlease recently awarded Glascott Stage 6 works to commence shortly after.