AILA Awards showcase ACT excellence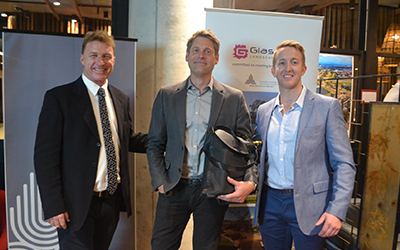 Glascott's ACT Manager Matthew Elliott, and Business Development Manager Matthew Tancred (yes, there are lots of Matthew's) attended the 2018 Landscape Excellence Awards in June. As a major partner of Australian Institute of Landscape Architects (AILA) ACT, they enjoyed mixing it up with ACT's finest while presenting two awards and the lucky door prize.
Matthew Elliott said the quality of work was impressive. "We really enjoyed the night and meeting the AILA members. What stood out was the capability of landscape architects and incredible projects in the region.'
With three decades of experience Glascott is a business understand the benefit of working closely with landscape architects throughout the construction process. They relish rising to challenges and demonstrating an ability in understanding the design then translating it to quality landscape outcomes.
Two projects delivered by Glascott received awards on the night. O'Connor Park Craft Your Park by SPACELAB Studio and Garema Place Pop Up Park by CONTEXT Landscape Design both received an award in the Community Contribution category.
"On behalf of Glascott Landscape & Civil, I'd like to congratulate all the award-winners and thank AILA ACT for putting on a fantastic night. We look forward to our continued partnership with AILA ACT and its members."
Click here to read about the winning projects.