Glascott wins Master Builders ACT 2018 Commercial Landscaping Award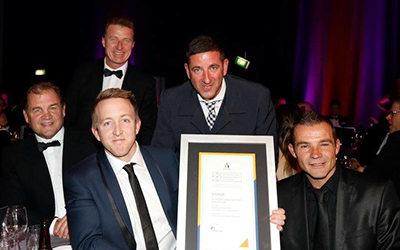 We are thrilled to have taken out the 2018 Commercial Landscaping Award at the Master Builders Association ACT Excellence Awards for our work on the National Boer War Memorial.
Our team attended the awards night held in June alongside ACTs finest builders and construction experts. We were delighted to win the award and be acknowledged for our work on the National Boer War Memorial; a project delivered in 2017. The memorial pays tribute to those affected by Australia's first overseas conflict and fills the gap in our conflicts memorials on Anzac Parade.
"This is a great win for Glascott. We'd like to thank our client GroupGSA for engaging us to undertake the landscape construction work and we congratulate them on a sensitive and engaging public memorial," said ACT Manager Matthew Elliott.
Adding to their memorial portfolio, Glascott recently also upgraded of the National Police Memorial.