Gore Hill Park Redevelopment Project Overview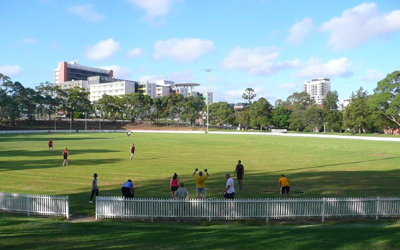 Gore Hill Park Redevelopment is a $10.5 million project for Willoughby Council with $9.5 million of funds provided by the Federal Government's Community Development Grants Programme. The park has been a sporting field for over 90 years and was in need of an upgrade to support the needs of the growing community.
Through in-depth experience in sports facilities construction, and accreditation from the Office of the Federal Safety Commissioner (OFSC) making them eligible to work on a federally funded project, Glascott were awarded Stage 1 which commenced in November 2017 and is expected to be complete by early January 2019.
Led by Glascott's experienced Project Manager Tom Brewster, Stage 1 work to be delivered include:
Realign & re-grade oval

and install the new all-weather synthetic playing surface for AFL and Cricket.
Installation of new

'swing-pole' major sports lighting, as well as area lighting for the oval perimeter walking track, car park, playground and basketball court.
Construct 120 lineal meters of ball stop

fencing

and 468 lineal meters of oval perimeter white picket fence.
Create a regional scale accessible

playground with natural play

space and barbeque picnic areas.
Build the perimeter walking track, cricket wicket, outdoor half basketball court and outdoor gym equipment.
Public domain works to facilitate access and public spaces.
Install the 2400m³

on-site storm water detention system

to prevent flooding.
Demolish existing pavilion and changerooms. Constructing a

new modular amenities building

with function room, viewing decks, change rooms, storage rooms and toilet facilities.
Realign and

reconstruct the southern car park

off Pacific Hwy.
STORMWATER CATCHMENT MEGA TANK
Construction is now 80% complete with a large portion of time going into the construction the on-site stormwater detention system. On two occasions the teams were up at 4.30am to pour the concrete over the 2.4 Megalitre capacity stormwater tank, designed in conjunction with Panthers Concrete Tanks. The tank sits below the new synthetic field and will act as temporary water storage during major storm events so the oval and areas downstream do not flood.
An upgrade to the existing sports field lighting was required for the project, to facilitate future maintenance access constraints, hence Seesaw poles were chosen. As the name suggests, the system facilitates the upper part of the pole to seesaw down by use of an electric winch, taking approximately 7 mins to drop and raise the poles. Willoughby City Council will find significant time and cost savings during on-going maintenance.