Battlefield Airlifter is taking off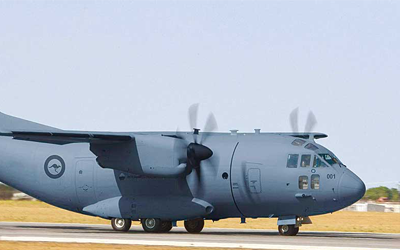 Glascott are working with Laing O'Rourke to deliver the Battlefield Airlifter project at Amberley RAAF Base, Ipswich, Queensland. The upgrade will provide facilities to accommodate the C-27J Spartan Battlefield Airlifter, an aircraft with significantly capability in moving people, equipment and supplies across Australia and within our region.
Glascott is delivering 9 Stages of predominately soft landscaping including over 14,000m³ of soil (enough to fill over 5 Olympic size swimming pools), subsoil drainage, 2.5km of concrete edging, 6.5 hectares of turf, 1,000m³ of mulch and 47,000 plants.
The project is running to a tight timeframe with works impacted by being on an active base with significant security controls and operating alongside other trades in areas with restricted access. The team have been demobilisations from site on a number of occasions and encountered some poor weather conditions but managed to deliver some Stages ahead of program.
Working with the civil contractor, Glascott were able to capture the bio basin Stage 11 works within Stage 8 works. This acceleration of the program is testament to the sub-contractors working cohesively towards a common goal. Other Stage 11 works completed include the Transit Accommodation with our team adapting at short notice to working with a new product.
Stage 11 was handed over on time and with minimal defects demonstrating Glascott's ability to work under pressure while producing quality results. The bio basin is now being utilised by Base personnel and wildlife, including kangaroos, who are enjoying their new environment.
Amberley is Australia's largest RAAF Base employing over 5,000 people so it's vital that works are carried out efficiently and without disruptions to site operations. Health and safety is also a top priority. Our team wear double hearing protection whilst working within close proximity to the runways because of high-level aircraft noise, and pink hardhats are used to identify 'spotters' – the eyes and ears for machinery operators whose job it is to ensure pedestrians and fellow workers are not injured by machinery.
Glascott's Queensland Manager Brett Frostick said he is happy with the progress, "Our team are showcasing Glascott's ability to manage all types of site conditions while producing high quality landscape outcomes on time. This is something we pride ourselves on."
Stages 1, 8 and 11 are complete with Stages 2 and 6 still to deliver. All works are expected to be completed by April 2019.