National Police Memorial Refurbishment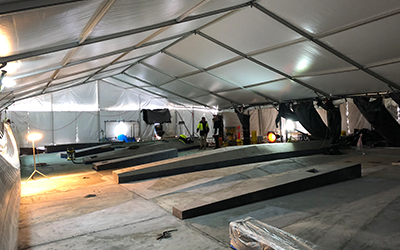 The National Police Memorial is situated in Kings Park on the northern shore of Lake Burley Griffin. The Memorial is an important tribute to Australian Police Officers who have been killed on duty or died as a result of their duties since the start of policing in Australia and to recognise the unique nature of police service and the dangers that police face in their daily pursuits.
The National Capital Authority engaged Glascott to refurbish a significant portion of the Memorial, in a manner faithful to the original design. The scope of refurbishment works included: site establishment; surveying; traffic management; surveying; precast concrete; security; demolition works; custom paving works; concreting; formwork; soft landscaping and electrical works.
The Memorial consists of a bronze wall, which recognises hundreds of fallen police officers on individual commemorative 'Touchstones', and a stone-paved apron which incorporates commemorative inscriptions. An important part of Glascott's brief was to ensure the protection of the bronze wall and commemorative touchstones while reconstructing the stone paved apron and associated commemorative features.
Glascott recently won the 2018 Master Builders Association ACT Excellence Awards in the Commercial Landscaping category for their work on the National Boer War Memorial. Proving sound expertise in delivering culturally sensitive projects, the team utilised their skills to ensure the National Police Memorial was delivered safely while respecting the site's commemorative significance.
The project commenced construction on site in March 2018 and was completed prior to the annual National Police Memorial Remembrance Day service on 28 September 2018.
Update: June 2019:
We are delighted to announce that we have won the MasterBuilders ACT 2019 Excellence Awards in Landscape Design & Construction – Commercial for the National Police Memorial Project. We thank and congratulate our client, National Capital Authority, delivery partners, and our team. The award represents collaboration and the shared commitment to deliver the project to a high standard.