Landscaping the new ANU Student Accommodation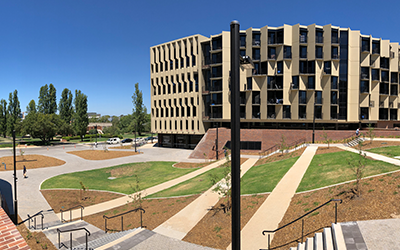 With a mission to create the finest on-campus student communities in Australia, theAustralian National University (ANU) created brand new student accommodation at their Acton Campus in time for the new academic year.
SA6 replaces Bruce Hall – the first undergraduate residence built in 1961. Constructed by Richard Crookes, the two new buildings will house 800 students.
Glascott was delighted to be awarded the landscaping having worked with Richard Crookes on the ADFA Academy and award-winning Canberra College Cares. Designed by Harris Hobbs Landscapes, the landscaping at SA6 included timber decking, stairs, exposed concrete and paved areas, bollards and bike racks. Softscape works included turf, mulch, and plants and trees to the building surrounds; including star jasmine,coprosma kirkii, common ivy, grass tree, tussock grass and Chinese flowering crab apple tree. Glascott also worked on the rooftop terrace creating a herb and fruit garden, plus relocating the 'Fugleman Statue' – a heritage sculpture retained from Bruce Hall and now the rooftop centrepiece.
Navigating the large volume of trades on site, Glascott worked hard in the pre Christmas lead up and through some very hot weather to meet the tight deadline, and delivered quality outdoor spaces for the campus community.