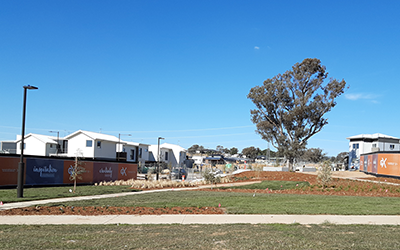 Following the completion of Cotter Road last year, we are focusing on our next project with Huon Contractors; Ginninderry Estate Stage 1.
Ginninderry Estate stretches from Canberra's northwestern suburbs across the NSW border into the Yass Valley. Bound on each side by the Murrumbidgee River and Ginninderra Creek, the new community is surrounded by nature, and when complete will boast 800 hectares of open space.
Early works have commenced at the community with Glascott providing landscape construction to the main boulevard. The scope of work is mainly mass street planting with irrigation, streetscaping, and installation of street furniture.
Glascott have worked with Huon Contractors on various projects over the past few years. The partnership is forged on a common goal of providing the end client with the highest standard in project outcomes. ACT Manager, Matthew Elliott said, "It's fantastic to be part of a collaborative delivery team with Huon. We look forward to achieving more great results together on the Ginnindery project."
Works are expected to be finished at the end of November 2019.