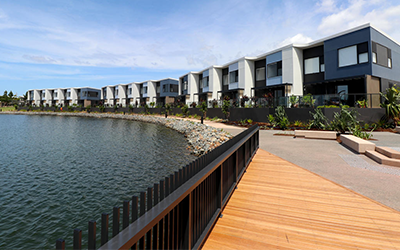 We recently completed works at Cova – Frasers Property flagship development located on Hope Island Canal on the Gold Coast.
Condev Construction awarded Glascott landscape construction of the open spaces assets designed by O2 Landscape Architecture. Working to a tight timeframe, our team delivered a scope of works comprised of planting x-ground trees and 140mm plants, mulching, decomposed granite pathways, and fencing and laying 2,500m2 of turf.
We installed irrigation and sub-soil drainage, and the cobblestones paving with concrete stepper to the townhouse entries. Our aim was to provide value management from the tender stage through to completion.
Based on the delivery outcome, Condev awarded Glascott a further Stage at Cova: landscaping of the townhouse courtyards, which we completed in September. We are delighted to have partnered with Condev and we hope to be involved in further stages at Cova.