George Pentland Botanic Gardens Playground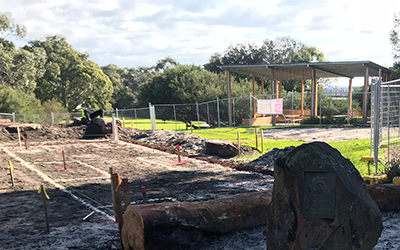 George Pentland Botanic Gardens is situated in the heart of Frankston and is popular with the local community and visitors for its playground, picnic areas and ornamental lake. Glascott were awarded the playground upgrade earlier in the year and are well underway on their first project for Frankston City Council.
The much loved playground is situated at the eastern end of the gardens. Glascott will remove the existing play equipment before creating a brand new play space with modern new play equipment, softfall rubber surface, natural stone walls, coloured and exposed concrete pathways, feature mudstone rocks, a sandpit and new cubby house. Timber logs and steppers along with new plants and garden beds provide natural elements in keeping with botanic garden surrounds.
So far, the team has undertaken the earthworks, installed the drainage, feature rocks, sand pit and the concrete footing for natural stone walls. They aim to deliver the new playground to the highest quality while ensuring any critical issues affecting scheduling and budget are managed effectively.
The project is expected to be completed in September ready for spring.