Two new projects with Huon Contractors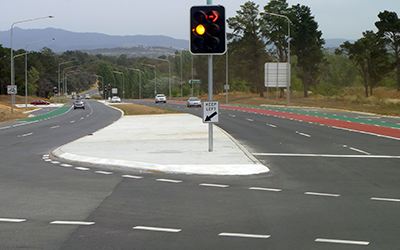 Huon Contractors turned to Glascott for landscape construction on two new projects; Cotter Road Stage 2 Deduplication Project and Ginninderry Estate Stage 1.
The Cotter Road Stage 2 Deduplication project was completed in June this year. Cotter Road is a key arterial road connecting Molonglo Valley and Weston Creek eastbound to the rest of Canberra. The project sees the upgrade of the road from west of Tuggeranong Parkway to east of the Yarralumla Creek and included an off-road shared path.
Glascott provided earthworks and soft landscaping along the route. Working on a busy arterial road meant safety was a primary focus. Glascott are Federal Safety Accredited and were able to deliver the works while meeting all the expected project outcomes. The completed project has increased traffic capacity, flow and safety for the growing community.
The second project awarded to Glascott is Ginninderry Estate Stage 1, due to commence early 2019. This first stage of the new residential masterplan includes construction of a playground, promenade, streetscapes and infrastructure. Glascott's scope includes earthworks, irrigation, concreting, soft landscaping and installation of street furniture. The project will commence in March with expect delivery late 2019.
Glascott have worked with Huon Contractors on a number of projects over the past few years. ACT Manager, Matthew Elliott, said the partnership has been forged through a common goal.
"Both businesses are committed to the best outcome for the end client.It's fantastic to be part of a collaborative delivery team and we look forward to achieving great result at Ginninderry Estate Stage 1."