Education reaches new heights in Parramatta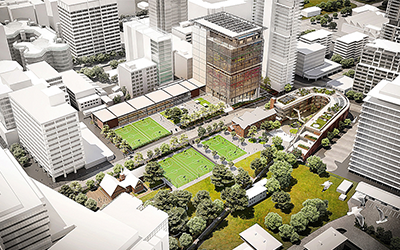 Arthur Phillip High School and Parramatta Public School is an innovative education project designed to meet the expected population growth. Situated in Parramatta's CBD, the new teaching and learning hub will enable future-focused learning in modern indoor and outdoor landscaped spaces.
Arthur Phillip High School is set to become the first high-rise High School in NSW. The new 17-storey tower will be adjoined by a separate four-storey curved building housing the new primary school, Parramatta Public School.
Watpac has engaged Glascott Landscape & Civil to undertake landscape construction on the project following recent collaborations like 'Ryde Garden' – a three-tower high-rise residential development. Glascott will deliver on the landscaping objectives, being:
Five sports courts and installation of sports equipment
Over 10,000m² of different types of pavements throughout the schools
The roof garden – a centrepiece of the new Parramatta Public School
Sandstone and concrete walls and installing custom furniture
Custom timber and sandstone play items at the primary school
Custom play equipment including water play item
Designed by ASPECT Studio, the construction team will undertake proven project management methodologies to deliver on the design intent while managing site constraints. Being a large project situated in a busy inner-city location means that site access, scheduling around other trades, and of course safety are the primary focus.
Delivery will be in two stages allowing for the school to remain partially activated throughout construction. The project will showcase delivery of a multi-storey education facilities in response to increasing residential density, and once complete will accommodate up to 2,000 high school and 1,000 primary school students.
Stage 1 landscape works start in March 2019 and will be complete by August 2019, with Stage 2 commencing in April 2020 and full project completion by August 2020.