Precinct Activation for City of Ryde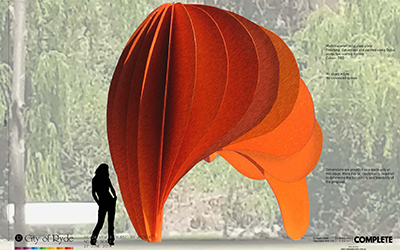 City of Ryde has engaged Glascott to undertake two new projects; Wilga Park Upgrade and Coulter Street Upgrade & Public Art Project.
Wilga Park
The Wilga Park Upgrade is part of City of Ryde's vision to connect parkland and open space along the Shrimptons Creek Corridor. The project follows the award-winning Elouera Park Upgrade, completed by Glascott in early 2018, also part of the 'precinct activation' strategy to enhance the area for everyone that lives, visits and works in Macquarie Park.
Wilga Park is being transformed into an event location and relaxing recreation space with a terraced amphitheatre, a new amenities block, fitness equipment and improved pedestrian connections. The upgrade sees raised footpaths, upgrades to the existing pathway, new lighting to ensure safety and accessibility, plus soft landscaping and artworks in the form of burst structure.
Coulter Street
Coulter Street is in Gladesville town centre and forms part of Council's commitment to creating neighbourhoods that thrive and grow through sustainable design and planning. The upgrade will activate the space by creating a unique modern and safe pedestrian / vehicle zone.
Glascott's scope of works includes demolishingthe existing roadway and footpath and installing new paved path and roadways using a variety of pavers, stormwater and electrical services, installation of street furniture and soft landscaping. Also providing a much needed upgrade to the intersection of Lindsey and Coulter Street.
Both projects incorporate the use of 'smart technology', consisting of a network of CCTV cameras and WiFi hotspots to make the spaces safe and convenient for users. The projects are underway and will be delivered simultaneously with completion in July 2019.