Creating a splash at Oran Park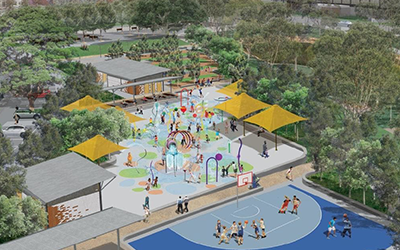 In our first project for Greenfields Development Company, we are delighted to be delivering The Ron's Creek Stage 1 Open Space and Splash Park Project.
The project evolved during the design of the Town Park and Masterplanning of the northern sections of Oran Park. It is the largest and most important landscape project delivered by Greenfields Development Company to date. Camden Council has been involved in the design and contributed financially, viewing the project as significant for the region.
Envisioned by JMD Design and Greenfields Development, Glascott will draw on extensive experience in large-scale parks to deliver a complex program. The scope of works at the 2.5ha site includes lighting, electricals and irrigation services and significant planting. We are focused on safety and providing sustained outcomes, which includes protecting the existing trees that will form part of the Ron's Creek riparian corridor.
Construction areas:
Terraced lawn seating and shaded civic seating areas with shelters
Formal plaza and picnic lawn areas
Children's and Youth Play Zones with picnic shelters, BBQs and amenities
Splash Park with picnic shelters
Facilities building
Exercise zone
Shareway circulation and a bio-retention basin
A viewing platform and spillway bridge
The project is running to a tight timeline. The amenities, pump buildings, splash park, and Youth and Junior Playgrounds are due by Christmas, and the completed project to be handed over to Greenfields Development Company by April 2020.