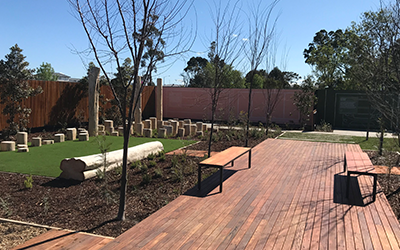 We are delighted to have been involved in creating the new state-of-the-art Experience Centre at Smiths Lane –Mirvac's new master plan community in Clyde North.
In our first project for Mirvac in Victoria, we were awarded construction of the Centre's display garden designed by HASSELL Studio. The display garden features a showcase of themes and finishes available to home buyers, a nature play area and a car park.
Glascott's scope of work included provision and construction of a broad range of surfaces; concrete and granite sand pavements, six types of bluestone pavers, timber decking and synthetic grass. We installed timber log play equipment, fencing, screening, and soft landscaping, which included instant turf, hydroseeding, garden beds, irrigation, and street furniture.
There were many small complexities to the project. Working to a compressed program, we addressed some site constraints to provide a quality outcome reflective of the expectation Mirvac has for Smiths Lane.
Warranty maintenance is underway and being delivered by our sister company, landscape management specialists. Marsupial Landscape Management.