Two

precincts activated for City of Ryde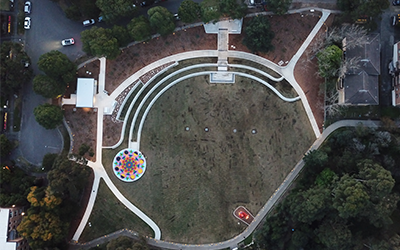 We recently handed over two projects to City of Ryde: Wilga Park and Coulter Street upgrade. Both projects feature sustainable design, unique public artwork and smart technology to provide safe, modern and vibrant new community space.
Wilga Park bursts to life
The Wilga Park upgrade is part of City of Ryde's vision to connect parkland and open space along the Shrimptons Creek Corridor, and align with the precinct activation strategy to enhance the area for everyone that lives, visits and works in Macquarie Park.
Glascott redeveloped the existing park into an event location and relaxing recreation space with a terraced amphitheatre, new amenities, fitness equipment and improved pedestrian connections.
New lighting provides safe and accessible spaces while highlighting the soft landscaping and vibrant new public artwork – 'Burst' – a landmark sculpture, and the exercise Mandala known as 'Flower, Sun, Moon, Head' – born out of the Public Art Strategy for Macquarie Park and created by ARTSCAPE.
Over on Coulter Street
City of Ryde is committed to creating neighbourhoods that thrive and grow through sustainable design and planning, and the Coulter Street upgrade showcases this promise.
Once a stark and service-driven laneway in Gladesville, Coulter Street has been transformed into a viable and attractive pedestrian link.
Glascott demolished the existing roadway and footpaths before installing a variety of new pavers, stormwater and electrical services, custom-designed street furniture and soft landscaping. The team also gave a much-needed upgrade to the nearby intersection between Linsley and Coulter Street. These revitalised spaces are now modern and safe for pedestrian and vehicle access.
Place-visioning and community consultation for Coulter Street was through collaboration between City of Ryde and ARTSCAPE and resulted in the bespoke catenary pendant lighting, custom street furniture, and interpretive graphics in the ground plane featuring themes of transportation specific to Gladesville.
The collaboration between planning and delivery has transformed Wilga Park and Coulter Street into legacy precincts for future generations to enjoy.
Coulter Street – Before & After