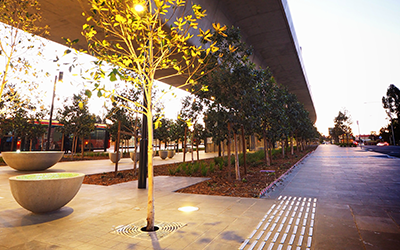 April 2019
We have completed the Sydney Metro Northwest project. Showcasing our capability in large project delivery, our team managed installation and establishment of over 1 million plants, shrubs and trees at 8 rail stations and 3 stabling yards across 7 kilometres of new rail corridor.
Glascott is providing post construction maintenance for the next 18 months, delivered by our sister business Marsupial Landscape Management.
Sydney Metro Northwest was delivered ahead of program and under budget for the NSW Government. We are proud to have played a role this successful collaboration on part of Australia's largest public infrastructure project.
October 2018
Sydney Metro Northwest is part of Sydney Metro – currently Australia's largest public transport project and first metro system.
The Northwest section spans 36km, connecting Tallawong Station (formerly Cudgegong Station) to Chatswood with 8 new train stations that will provide improved transport for Sydney's northwest.
The project recently reached a milestone with the delivery of the first station at Tallawong and a visit from NSW Premier Gladys Berejiklian, and NSW Minister for Infrastructure, Andrew Constance.
HASSELL Studio design the 8 new stations and works beneath the viaduct Corridor with Glascott delivering the entire landscaping package for Northwest Rapid Transit.
Glascott's scope of works includes:
Landscaping at 8 New rail stations, 2 facility centres, and 1 stabling yard
Importing 48,057m3 of soil
Hauling and placing 91,930m3 site soil
Installing 28,815m3 of organic mulch
Planting 948,340 shrubs and groundcovers
Installing 4671 established trees
276,590 m2 hydroseeding
18 months of landscape maintenance and establishment.
Glascott is working concurrently across all 8 stations. Headed up by Project Manager Daniel Badger, the team along with their subcontractors have completed around 54% of the project so far – a combined 40,661 total hours of work with 4,671 trees and 479,250 plants installed – approximately 50% of total stock.
A significant challenge on the project was nurturing trees and plants during establishment while we endured one of Sydney's driest winters. Glascott is working closely with infrastructure maintenance experts and sister business Marsupial Landscape Management to avoid potential 'derailment' of successful outcomes. And while this is an ongoing challenge, as we are potentially facing one of the hottest summers on record, the installed plant material is now displaying good new growth and the signs are encouraging.
Glascott will complete works on Sydney Metro Northwest in April 2019 with Marsupial Landscape Management continuing maintenance for a further 18 months across the new rail corridor