New Health Precinct for the University of Sydney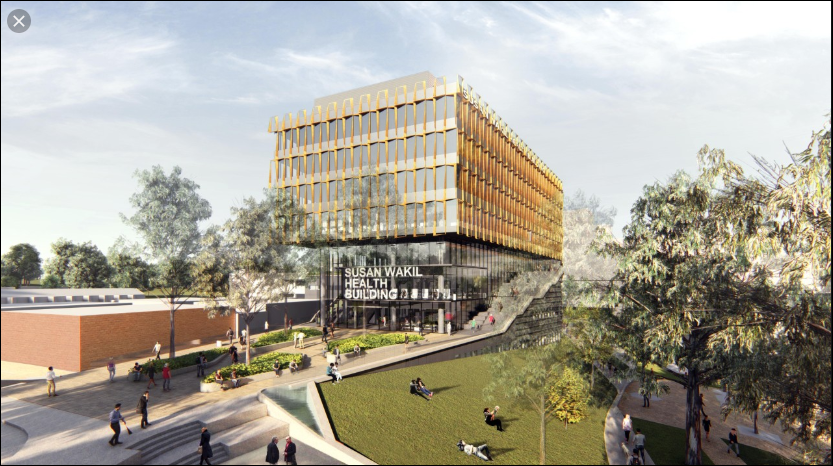 An impressive state-of-the-art Health Building now adorns the Camperdown/Darlington Campus at The University of Sydney.
The Susan Wakil Health Building brings together multiple health disciplines to work out of the same precinct.
Made possible by a $35 million donation from the Susan and Isaac Wakil Foundation – the largest-ever donation to the university – the 9-story building has been designed to be agile for multidisciplinary teaching and learning across all health faculties, and a place of collaborative research.
Glascott Landscape & Civil worked with Laing O'Rourke, adding to previous collaborations including the award-winning Moorebank Units Relocation for the Department of Defence and projects at Amberley RAAF Base and the University of Technology.
The open space was designed by Arcadia Landscape Architects and features sprawling turfed areas, extensive garden beds, paving, and street furniture to the perimeter of the building with stairs and structural elements in the Lower Wakil Garden area. There is also a bio-retention system and a water feature – one of the focal points to the building's entry and level 4 area.
The Challenges
As a Tier 1 landscape contractor, Glascott believe that a willingness to work closely with clients on challenges is what sets them apart.
On this project, they deployed a formidable team including a highly experienced Project Manager, Site Foreperson, and two dedicated engineers.
The team worked closely with Laing O'Rourke on design concerns, including the bio-retention system and water features which presented unique challenges.  Adding to this was working to an extremely condensed program with additional works to the original contract. 
The Results
The team rose to the challenge to pulled out all stops and ensure the milestones were achieved.
Drawing on decades of project delivery experience, together with a robust collaboration formed between all the delivery parties on the project, the team managed to deliver a high-quality result within the very restricted timelines.
Glascott is now providing warranty maintenance on the new and existing plants and vegetation at the Campus, with the services designed to protect the soft landscaping, mitigate the risk of damage, and establishing the site for long term growth.
Scope of Works
Detailed excavation and surface preparation
Environmental and geotechnical testing, classification, & certification
In-ground stormwater drainage
Structures, planter boxes, sandstone log walls, retaining walls & footings;
Bio-retention system and associated structural, hydraulic & electrical works
Water features including associated hydraulic and electrical infrastructure
Stairs and structural works to Lower Wakil Garden area
Kerb and channel and road pavement works
External Works and Soft Landscaping:

Supply and installation of street furniture;
Planting, shrubs, trees & turf;
Installation and commissioning of the irrigation system
Ongoing maintenance of new and existing plants and vegetation;
Bike shelter and associated infrastructure